The Albertype Company was founded by Adolph Wittemann and Herman L. Wittemann in the late 1880s as a postcard and "view book" publishing company. Prior to the founding of the Albertype Company there was a predecessor company, Wittemann Bros., which was founded in 1879. The Albertype Company most likely was formed in 1887 based on when copyrights with the company name first appeared in their works. The Albertype Company's founding is usually stated to be in 1890, but this is inaccurate. The company survived until 1952, when it was purchased by the Art View postcard company, although they did not take over the company's factory in Brooklyn.
Sometimes Wittemann Bros. is referred to as "A. Wittemann," or "Adolph Wittemann," on the copyright page of the books, this is usually to indicate that Adolph Wittemann served as the photographer of the images in the book. The company described themselves as "Publisher of American Views," although they also produced tens of thousands of early postcards. Adolph Wittemann was born in Baden, Germany, in 1846 and emigrated to New York at the age of 24 in 1870.
Jacob and Rudolph were the other brothers affiliated with the Wittemann Brothers company. When Jacob and Rudolph started to sell manufactured brewing equipment, the Albertype Company was formed. Jacob and Rudolph continued to do business using the Wittemann Brothers name, operating out of 188 William Street in Lower Manhattan, while Adolph and Herman operated their new business under the Albertype Company name.
Company locations
Understanding where the company was located can help to date items when no date is discernible. The company operated out of five locations in its first fifteen years. The first recorded location for the company's place of business was at 25 Park Place in Lower Manhattan. In 1888 they moved a half mile away to 58 and 60 Reade Street, although they were only there for a short time since by 1890 they moved a mile north to 67 and 69 Spring Street. Their final Manhattan address beginning in 1895 was 15 Laight Street, located in today's Tribeca neighborhood. Beginning in 1897 the company moved across the East River to Brooklyn, setting up shop at 250 Adams Street, Brooklyn, and we can speculate they moved to Brooklyn to ramp up their production, since after 1897 their output of products increased. A fire destroyed the factory on March 9th, 1927, although the company rebuilt.
An article in the 1952 Brooklyn Daily Eagle describes the Albertype Company as being located on 309 Bridge Street in "an historic old church," and they quote Herman L. Wittemann, then the president, as a third generation member of the family firm. The firm had to move to Bridge Street because their old property on 250 Adams Street was condemned to make way for the new Civic Center. At the time, they were employing thirty men and women.
Almost all of the company's printed materials say, "Albertype Company, Brooklyn."
Adolph Wittemann died at age 92 in 1938. The Bridge Street property was auctioned off in 1952 after the death of Herman L. Wittemann.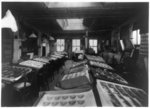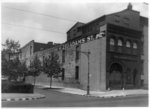 The Albertype factory at 250 Adams Street, Brooklyn (interior and exterior views). Source: Library of Congress
What is an Albertype?
The company was formed to take advantage of the recent technological innovation of the collotype, which could photo-mechanically reproduce images. The Getty Museum has the best definition of what it is, "The name collotype is derived from the Greek word kola ("glue"). Collotype designates printing from a gelatin surface in a lithographic manner. The basic principle of the collotype process was invented by Alphonse-Louis Poitevin in 1855 . . . The most important improvements were introduced in 1868 by the Austrian photographer Joseph Albert and Jakub Husnik." Albert's innovation took a technology that could produce no more than 100 prints from a copper plate to a newer and better version that could produce almost 2,000 prints, a 20 fold increase and with a "real photography," look and feel.
The company took its name from Joseph Albert, thus Albertype, although in their early materials sometimes they hyphenated it: Alber-type. Albert made his first trip across the Atlantic to come and meet with the Wittemanns as they were setting up the company.
The company alternatively describes their works as photogravures. From Photograveur.com: "Photogravures are photographs etched into copper and printed traditionally with ink. Their rich velvety matte surface, deep shadows, delicate half tones, and luminous highlights make photogravures some of the most beautiful and tactile images ever printed." Albertypes have a sepia tone to them. Sepia is a reddish-brown color, making them somewhat distinctive as compared to images from the periods before and after.
The Company's products
A surviving company catalog from 1893 outlines their products, "We offer to prepare, print, bind, and furnish complete an Alber-type Souvenir of your town, city, establishment, or section, or, Catalog, Pamphlet, Framing Picture, Hanger, Card, Folder, etc. Photographs of any size, mounted or unmounted, will answer as originals; also the originals may be sent us, and exceptionally designs, plans, cuts or engravings. When photographs cannot be procured to complete the series consult us; we may know a suitable photographer in your vicinity, or send our own photographer at a modest cost." The price for ordering 1,000 copies of a six page booklet was 10 cents a copy. They also give an example of a booklet they did for Beatrice, Nebraska, where 16 pages costs 27 cents a copy.
An example of a book where the Albertype Company didn't take the pictures is a booklet titled Beauties of Lookout Mountain : Photogravures published in 1895. The images were supplied by Hardie Brothers Photographers from Lookout Mountain, Tenn. And a Princeton College book of Albertype Illustrations was produced with pictures provided by photographers in Princeton named R.H. Rose & Son.
The Albertype Company's view books, also known as viewbooks or souvenir books, were typically bound in cardboard wrappers held together by a tie-string or ribbon, although sometimes the books were bound as hardcovers. The pages in the hardcover books were often in an accordion-pleat style, also called a Leporello or Concertina fold.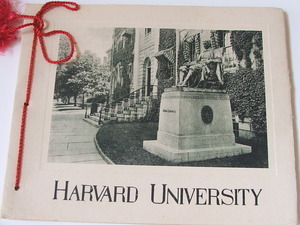 An example of the tie-string binding on Albertype view book
Collegiate products
The company produced view books for various colleges and universities. They include Harvard, Stanford, Cornell, Columbia, Duke, Dartmouth, Yale, DePauw, The Pennsylvania State College, The University of Oregon, Ohio Normal University, The University of Michigan, Laval University (Canada), Bessie Tift College, The University of Wyoming, Ohio State University, Notre Dame, The University of Illinois, and Princeton.
Corporate and Other Products
In addition to their work in the collegiate market they also did booklets for companies, including the Gottfried Krueger Brewing Company of Newark, New Jersey, the St. Paul and Tacoma and Lumber Company and the Rockaway Beach Investment Company. They also produced a view book for the Busch Gardens in Pasadena, California, and the Branford Colonial Church (Virginia) as well as the Western Branch of the National Home for Disabled Volunteer Soldiers in Leavenworth, Kansas. The True Temper Inn in Wallingford, VT also produced a souvenir book as well as the following companies and organizations: Selected Views Oriental Limited Route, for the Great Northern Railway, the Canadian Pacific Railroad, the State Normal School, Athens, Georgia, and the Ray Consolidated Copper Company.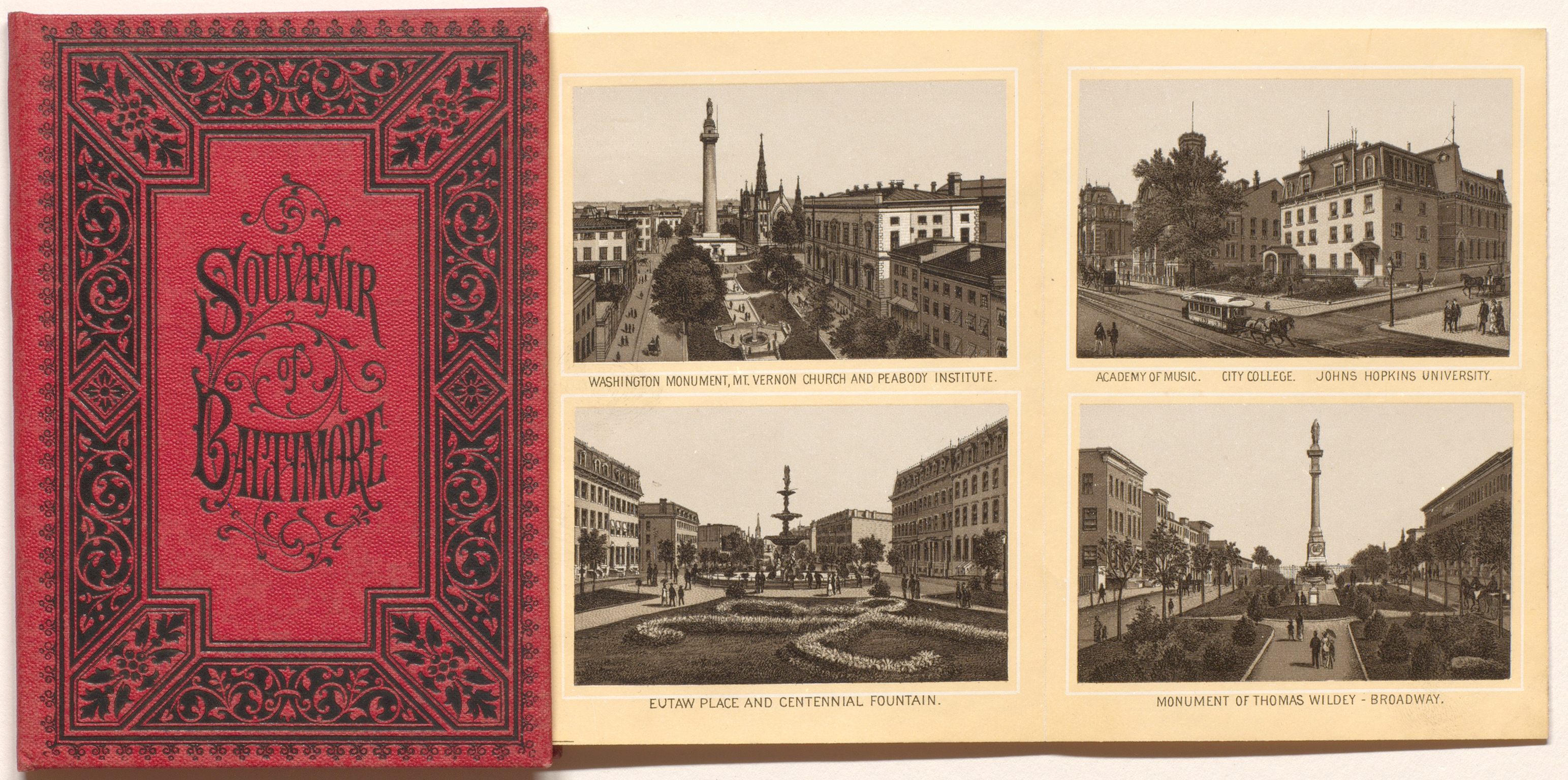 An example of an early hardcover book produced by Wittemann Brothers, with accordion-style pages
An example of a poster produced by Wittemann Bros, 1897. Compliments of Library of Congress
City View Books and View Books and Souvenirs for Regions or Events
The company had a robust business producing view books and souvenirs for locales across the United States and Canada, as well as the Hawaiian territory. They produced books for cities large and small, including such large cities as Philadelphia, New York, Boston and Baltimore, but also smaller cities like Missoula, Montana, Park City, Utah, and Guthrie, Oklahoma.
Some early books were not photographic images, but instead were illustrations that the company simply published using their technology. For example, the Pennsylvania Railroad Scenery Book of 1880 contains sketches and not photographs. Likewise, half the images in the Salt Lake City book of 1890 are sketches and half are photographs. Unsurprising, the company's very early works from 1880 are of scenes that are relatively local to the company's New York headquarters with books about Coney Island, New York, and Philadelphia. Cities and other subjects that had view books or souvenir books are listed below in chronological order, include:
Published by Wittemann Brothers
In 1879 the company produced posters for brewers and one off photographs, not books
Album of Coney Island (1880)
Souvenir of New York (1880)
Pennsylvania Railroad Scenery (1880)
Philadelphia (1880)
Atlanta, Ga. and the International Cotton Exposition (1881)
Souvenir of the Hudson River (1881)
Album of Troy New York (1882)
Souvenir of Philadelphia (1882)
The Capital at Albany, NY (1882)
Album of Ocean Grove and Asbury Park (1882)
New Chicago Album (1883)
Souvenir of St. Paul (1883)
Saratoga Album (1883)
Minneapolis (1884)
Sea Isle City, N.J. (1884)
Delaware Water Gap (1884)
New York (undated, produced by A. Wittemann Souvenir Books and Postcards)
The Oil Country of Pennsylvania (undated, produced by A. Wittemann Company)
Souvenir Of Boston (1885)
Grand Rapids, Michigan (circa 1885)
Views of Niagara Falls (1885)
Instantaneous views of New York Harbor (1885)
Minneapolis (1885)
Los Angeles and Vicinity (1886)
White Mountains (1886)
Atlantic City (1887)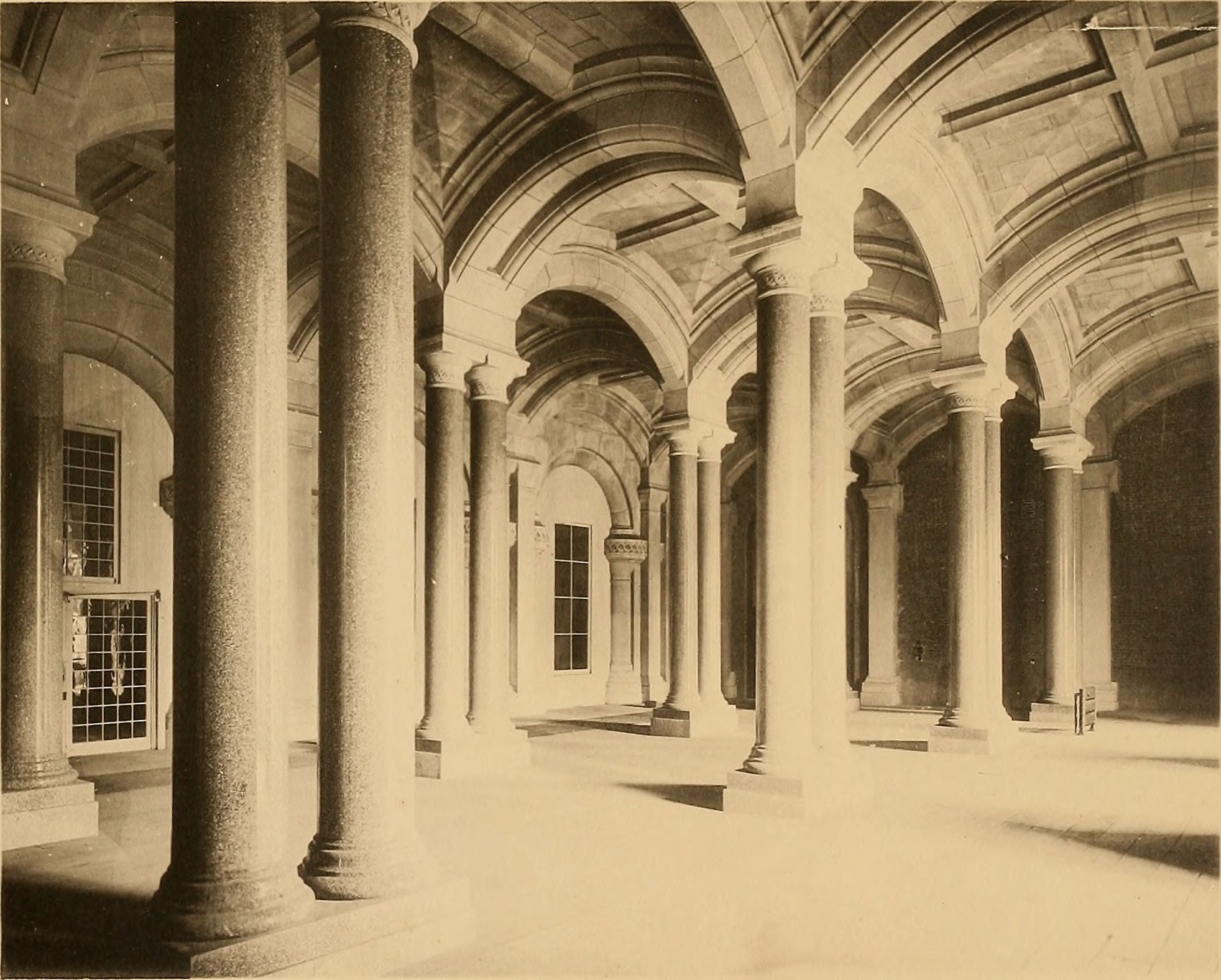 A classic Albertype image showing the reddish-brown coloring
Published by the Albertype Company
Yellowstone National Park Illustrated (1888)
Shelter Island (1888)
Picturesque Alaska (1888)
Richfield Springs (NY), Illustrated (1888)
Souvenir of Austin, TX (1888)
Souvenir of Newport, RI (1888)
Souvenir of Bennington, VT (1889)
Baltimore illustrated in Albertype (1889)
Washington (1889)
Thousand Islands (1889)
Rockaway Beach (1890)
Montreal in Photo-Gravures (1890)
Salt Lake City in Albertype (1890)
Select New York One Hundred Albertype Illustrations (1890)
Souvenir of Buffalo (1890)
Chicago (1890)
Types of the Sunny South (1890)
Glimpses Of San Francisco. Photo-Gravures (1890)
Glimpses of Denison, Texas (1890)
St. Augustine: Views of the Old Florida City from Recent Negatives (1891)
Souvenir of Park City, Utah (1891)
New York : Indelible photographs (1891)
Pittsburgh and Allegheny (1891)
Souvenir of Savannah (1891)
Toronto (1891)
Souvenir of San Jose, California and the Lick Observatory, Mount Hamilton (1892)
St. Paul Illustrated (1892)
Jacksonville (1892)
Oakland (1892)
Central Park (1892)
The World's Colombian Exposition Art Portfolio (1893)
Niagara Falls (1893)
Ogden City, Utah (circa 1893)
Round the World in Midway Plaisance (1893)
Quebec of Today (1894)
Monterey and the Hotel del Monte Photogravures (1894). Interestingly, although the book was produced in 1894, it has the companies old Spring Street address in Manhattan on the copyright page
Cincinnati Illustrated (1895)
The Indians of North America : life pictures in photo-gravure (1895)
Souvenir of Annapolis Maryland (1896)
U.S. Military Academy, West Point (1896)
Denver (1896)
Souvenir of Calais, Maine (1896)
A Souvenir of the Lighting of Niagara Furnace (1896)
Seal Rocks, Cliff House and Sutro Heights (1897)
East Rock Park at New Haven, CT (1897)
Seals and the Seal Islands (circa 1898)
Souvenir of Hot Springs, South Dakota (1898)
Old Point Comfort, Fortress Monroe and Vicinity Photogravures (1898)
Albany, New York, Photo-Gravures (1898)
Phostint views of picturesque Detroit (1899)
The Library of Congress: Its Architecture and Mural Decorations (1900)
Points of Interest in Philadelphia and Fairmount Park (circa 1900)
Santa Barbara (1900)
Picturesque New Orleans : photo-gravures (1900)
Views of Ogden (1900)
Souvenir of Sacramento : Indelible Photographs (1900)
Souvenir of Athens Georgia (1900)
The Columbia River Highway (1900)
Watkins Glen Illustrated (1900)
Souvenir of Charleston (1901)
Souvenir of Seattle (1901)
Souvenir of Tacoma (1901)
Greater New York (1901)
St. Louis (1901)
Hawaiian Souvenir Calendar (1901)
Electric Illumination Pan-American Exposition, Buffalo, NY (1901)
The United States (1902)
Glimpses of Winnipeg, Manitoba (circa 1902)
Souvenir of Omaha, Nebraska (1902)
Richmond, Virginia (1902)
Glimpses of Rockville, CT (1902)
Picturesque San Antonio (1903)
Souvenir of Galveston (1904)
Official Louisiana Purchase Exposition (1904)
Shasta Route (1905)
Yosemite National Park, California (1905)
Glimpses of the Okanagan Valley, British Columbia (circa 1905)
Views of Hood River, Oregon and glimpses of Hood River Valley (circa 1905)
Souvenir of Estes Park (circa 1905)
Souvenir of Kalispell and the Flathead Valley (circa 1906)
Harpers Ferry, WV Souvenir (1906)
Views of the Mission mountains ... Flathead Lake and Valley (circa 1908)
Guthrie, Oklahoma (1908)
Souvenir of El Paso (1908)
Flathead, Montana (1908)
Roswell, New Mexico (circa 1909)
Views of Kelowna, the Orchard City (circa 1910)
Alaska (1910)
Souvenir of Atlanta, Georgia (1910)
Souvenir of the Royal Northwest Mounted Police (circa 1910)
Glimpses of the Summer Isles (Bermuda) (1910)
Glenwood Mission, Riverside, California (1910)
Ormond Daytona (1910)
Progressive Portland (1911)
Beautiful Lake Green, Wisconsin (1912)
Around the Circle One Thousand Miles Through the Rocky Mountains (1913)
Glacier National Park (1920)
Pike's Peak via the Cog Road (1924)
Grand Canyon National Park (1925)
Palm Beach (1925)
Apache Trail (circa 1926)
Picturesque Northern New Mexico and Arizona (1926)
The Big Features of Rainier National Park (1926)
Colorado Springs and the Pike's Peak Region (1927)
Historic Williamsburg Jamestown Island and Yorktown, Virginia (1935)
Norfolk, Virginia (unknown date)
Cactus View, Tucson, Arizona (unknown date)
Souvenir of Hilo, Hawaii (unknown date)
Views of Missoula (unknown date)
Souvenir of Baker City, Oregon (unknown date)
Souvenir of Pacific Grove, California (unknown date)
Souvenir of Winston Salem (unknown date)
Sixty-Five Glimpses of Newport (Rhode Island) (unknown date)
Seattle: Gateway to Alaska and the Orient (unknown date)
Souvenir of Bellingham (unknown date)
Picturesque Avalon and Catalina Island (unknown date)
Souvenir of Duluth (unknown date, but listed as an example of their work in an 1893 catalog)
Florida (unknown date, but listed as an example of their work in an 1893 catalog)
Quincy, Mass (unknown date, but listed as an example of their work in an 1893 catalog)
Note: the company apparently didn't produce any products during the First World War, either because raw materials were hard to get or for other reasons.
Other Books and Pamphlets
One of the more unusual books the company produced, in 1892, was titled Chinese customs : indelible photographs. It was produced for Joseph Hoffman, 120 Sutter Street, San Francisco. One of the pictures in the book shows an Asian man "preparing the opium," and then smoking it. And it has an image of a young girl with bound feet.
The company also produced a book titled Our Navy 1898 where they show U.S. Naval vessels of the time.
Postcards
The company produced tens of thousands of distinct postcards over the decades. Early cards, like the Yale postcard below say Albertype Co, Brooklyn, NY on them. Once the era of divided back postcards came along in 1907 their cards say, "Post Cards of Quality," on the back, and later, "The Finest American Made View Post Cards," rather than saying Albertype Co.
Albertype postcard of Yale, 1890
The Albertype Postcard Company's most valuable surviving product is probably Babe Ruth postcards produced in 1944 and 1945, and they are worth thousands of dollars, particularly those signed by Ruth. The company was the official producer of the Hall of Fame plaque postcards between 1944-1952 and produced cards with scores of Hall of Fame inductees images on them.
There is an active collectible market for the company's Hall of Fame postcards, with aficionados making distinctions among cards like book collectors do among first edition points. Cards issued in 1944 and 1945 are called 'Type 1.' You can identify a Type 1 card because the abbreviation "N.Y." appears after the word Cooperstown, as distinct from 'Type 2' cards which spell out "New York." Some of the more obscure players cards that are autographed are worth a lot of money, also. Recent auctions have yielded $3,500 for a signed Kid Nichols postcard, and $3,500 for a Clark Griffith signed postcard.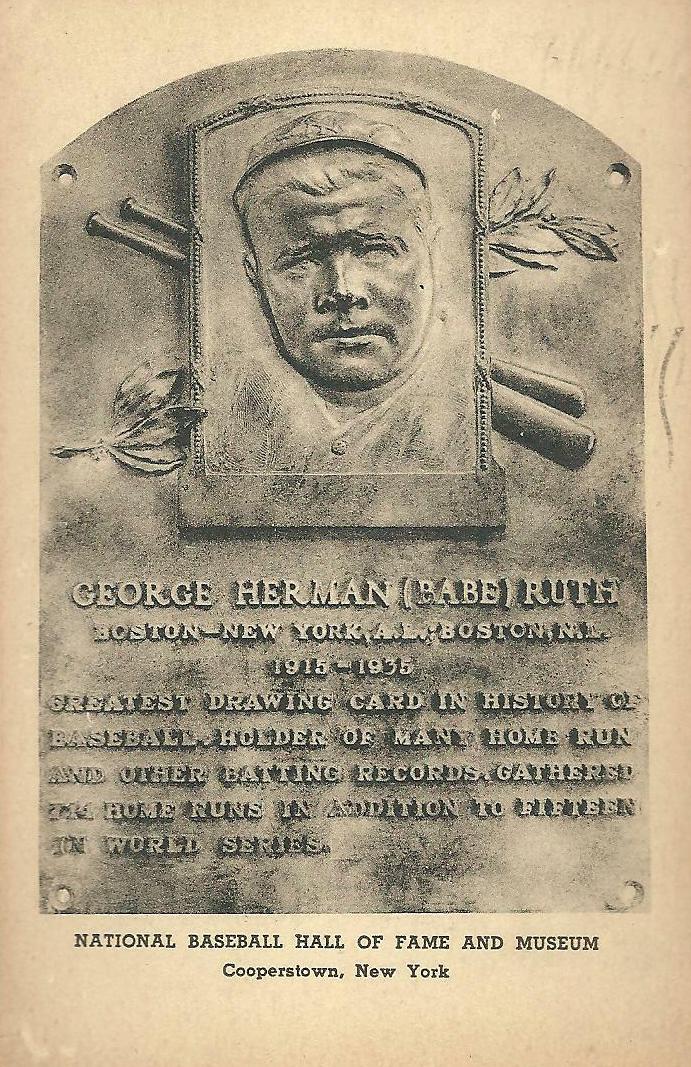 The Albertype Company's Babe Ruth Hall of Fame postcard
The company began making colorized versions of their postcards in the 1920s. A Brooklyn Daily Eagle article from 1939 says that the company's factory had a "room in which 20 or more girls were feverishly working on cards." The same article says that most of the postcard sales were to drug stores, where they would be displayed on racks. A 1946 classified ad for the company was to hire "airbrush girls" for postcards.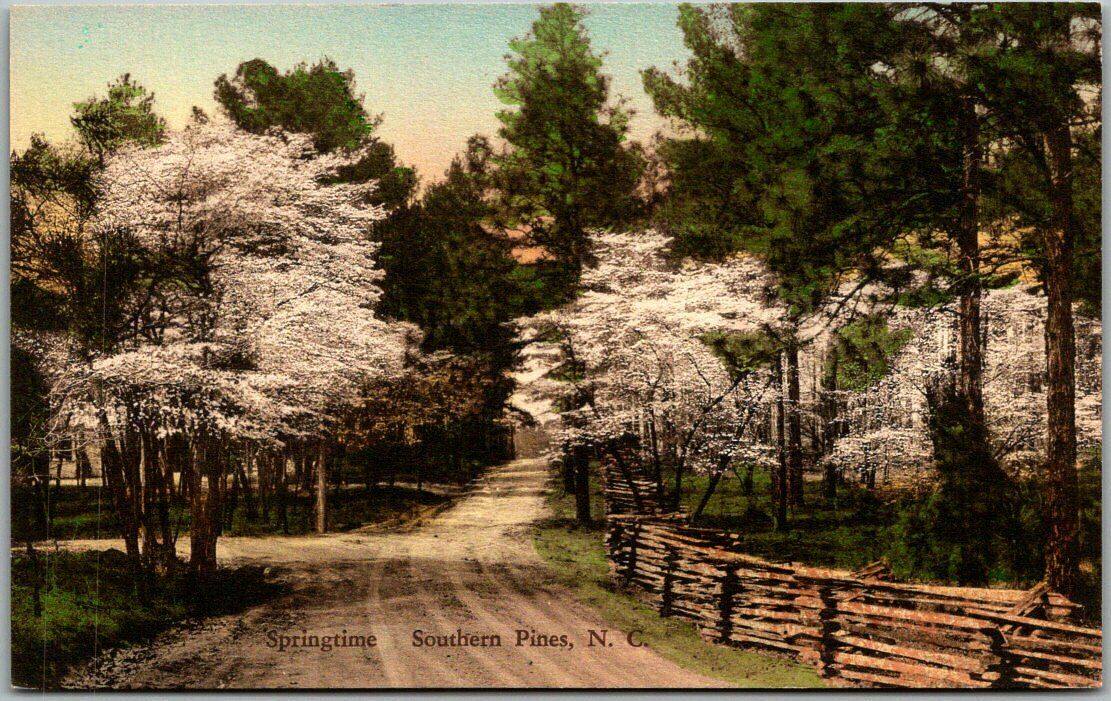 A hand-colored Albertype postcard of Southern Pines, North Carolina
History
Albertypes products are an invaluable resource for the historian who is interested in the late 19th and early 20th century. They provide real historical context and their images truly are worth a thousand words.
An early Atlantic City booklet has nice images of the "U.S. Life Saving Service," where its members are on a beach pulling a cart and then are seen erecting wooden beams and pulleys to be used to rescue a boat from the ocean. It also shows long iron pier structures similar to piers in England after which they were modeled.
The Oil Country of Pennsylvania book, published in 1888, highlights a time when Pennsylvania, and not Texas or Oklahoma, was the leading oil producing region in the Country. The Spindletop well wasn't discovered in Texas until 1901. The book has invaluable early images and depictions of the newly emerging industry.
The book done for Los Angeles in 1886 shows an early California vineyard as well as a city of largely wooden structures with street cars.
A New Orleans book from 1900 shows a bustling metropolis with eight electric street cars clustered together on Canal Street, although of all the view books we have seen, the city today greatly resembles the city of 1900, New Orleans being such a timeless city.
Sources/Resources:
1. A great resource for a more in-depth understanding of the company is from their 1893 catalog, which can be viewed on: The Clark.
2. The Library of Congress has a useful index of some of the company's works and has a treasure trove of view books in their collection: https://www.loc.gov/item/96524796/
3. The UCLA library has a large collection of Albertype View Books from Western States in its collection: https://oac.cdlib.org/findaid/ark:/13030/kt5j49q6...
4. The West Point Library has a digital image of an early view book of the Military Academy: http://digital-library.usma.edu/digital/collectio...
5. Photogravure.com has a good glossary of terms around Albertype and early photographic methods.
6. The Historical Society of Pennsylvania has a large collection of Albertype material.
7. The Getty Museum has an excellent history on early photographic printing techniques.
8. The Library of the University of Pennsylvania has links to many old view books.
9. eBay has thousands of Albertype postcards for sale
10. Abebooks has hundreds of Albertype view and souvenir books for sale
11. A Brooklyn Eagle article from 1905 claims that the company was founded in 1867 and not the more commonly though of date of 1879, although this seems incorrect since there are no books that have been found dating back that early. The article covers a legal dispute between Adolph Wittemann and his wife Emily, who was claiming that the company and its shares belonged to her and that she was the rightful owner.
12. Biographical information on the Wittemanns provided by Silive.com
13. The Columbia University Library correctly dates the formation of the Wittemann Brothers Company to 1879. The Souvenir of Baltimore image is from the Columbia University Library collection. The school's Avery Architectural & Fine Arts Library a nice history of viewbooks, and they hold over 4,000 items in their collection.